Our Mission
We are not just another healthcare provider. Our mission at TrueCare is to provide an affordable, comprehensive and quality healthcare in the comforts of every individual's home.
Dato' Dr Omar Abd Hamid
Founder
He has a long and diverse experience in healthcare management and entrepreneurship. He was one of the founders of Avisena Group of hospitals, and today Avisena has emerged as a fast-growing healthcare group in Shah Alam.
He holds a Bachelor of Medicine and Surgery from University of Malaya and an MBA from University of Ballarat.
Meet Our
Management Team
Mazidah Umar
Executive Director
A pharmacist by profession, and highly experienced in hospital operation management, Mazidah also has a Bachelor of Pharmacy from University of Malaya and a Masters in Business Administration (MBA) from Cardiff Metropolitan University, UK.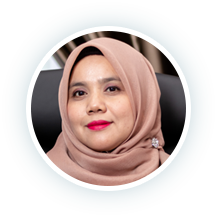 Teh Marziah
General Manager
Experienced registered nurse with over 22 years in the field, and has held leading operational positions in a private hospital.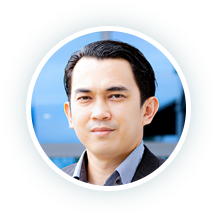 Mohamad Effazuan
Head of Software Development
Holds a Bachelor's Degree in Computer Science from Universiti Teknologi Malaysia and having more than 10 years of experience in software programming.
Amirah Rahmat
Head of Marketing
Experienced in branding, corporate communications & marketing and was previously in banking and healthcare industries. She is a graduate from Monash University Australia with a Bachelor's Degree in Psychology & Communications.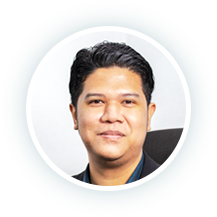 Taufik Badaruddin
Head of Operations
Has over 10 years of experience in the nursing field, with specialised interest and niche expertise in handling home care nursing, treating and managing post-surgical patients among others.
---
Meet Our Advisors
Specialist Consultant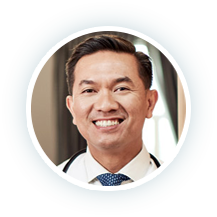 Dr Mahmood Sabaruddin
Consultant Physician and Cardiologist
Dr Mahmood received his qualification from the University of Wales, College of Medicine, UK. With almost 20 years of experience in the field, his specialty includes general cardiology, cardiac imaging (echocardiography, cardiac CT and cardiac MRI), interventional cardiology including coronary angiography and angioplasty.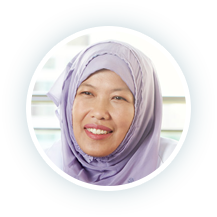 Dr Jumeah Shamsuddin
Consultant Obstetrician, Gynaecologist & Fetal-Maternal Medicine Specialist
An obstetrician, gynaecologist & fetal-maternal medicine consultant, Dr Jumeah specialises in managing high-risk obstetric patients. Her expertise is in foetal diagnostic procedures and invasive procedures.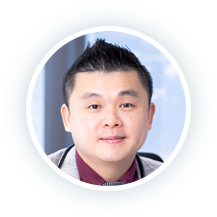 Dr Tan Eng Kian
Consultant Paediatrics
A Consultant Paediatrics, received his Master of Pediatric from University Malaya in 2014 and awarded Malaysian Paediatric Association (MPA) best post-graduate award in 2014. He completed the Post graduate program in Paediatric Nutrition by Boston University and has special interests in paediatric respiratory health, neonatology and nutrition.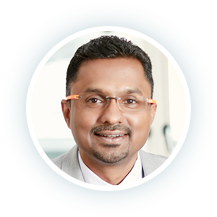 Dr Ragu Ramasamy
Consultant Colorectal Surgeon
Holds a Bachelor of Medicine & Surgery from the University of the West Indies, Trinidad & Tobago in 2000, Masters of Surgery (General Surgery), and a Fellow of Minimally Access Surgery (Laparoscopy). He completed his Colorectal Fellowship (M'sia, France, Geneva, Thailand) and is a Fellow of American College of Surgeon.
Allied Health &
Nursing Coordinators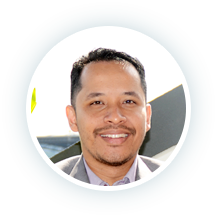 Haqulyakin Ahmad
Pharmacy Coordinator
Experienced pharmacist with over fifteen years in the field of both retail and hospital pharmacy, and is currently the head of pharmacist at a leading private hospital.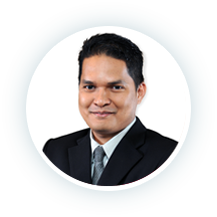 Riza Shahrom Abdul Razak
Physiotherapy Coordinator
Experienced Physiotherapists with more than 10 years of treating various cases. Specialisation in Cardio-Respiratory, Pulmonary Rehabilitation, Cardiac-Rehabilitation, Acute-Care and Intensive-Care Physiotherapy.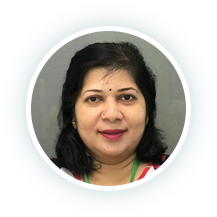 Indrani Subramaniam
Nursing Coordinator
A highly experienced nurse with over 20 years of experience in government & private healthcare. She is currently the head of nurse educator at a leading private hospital.